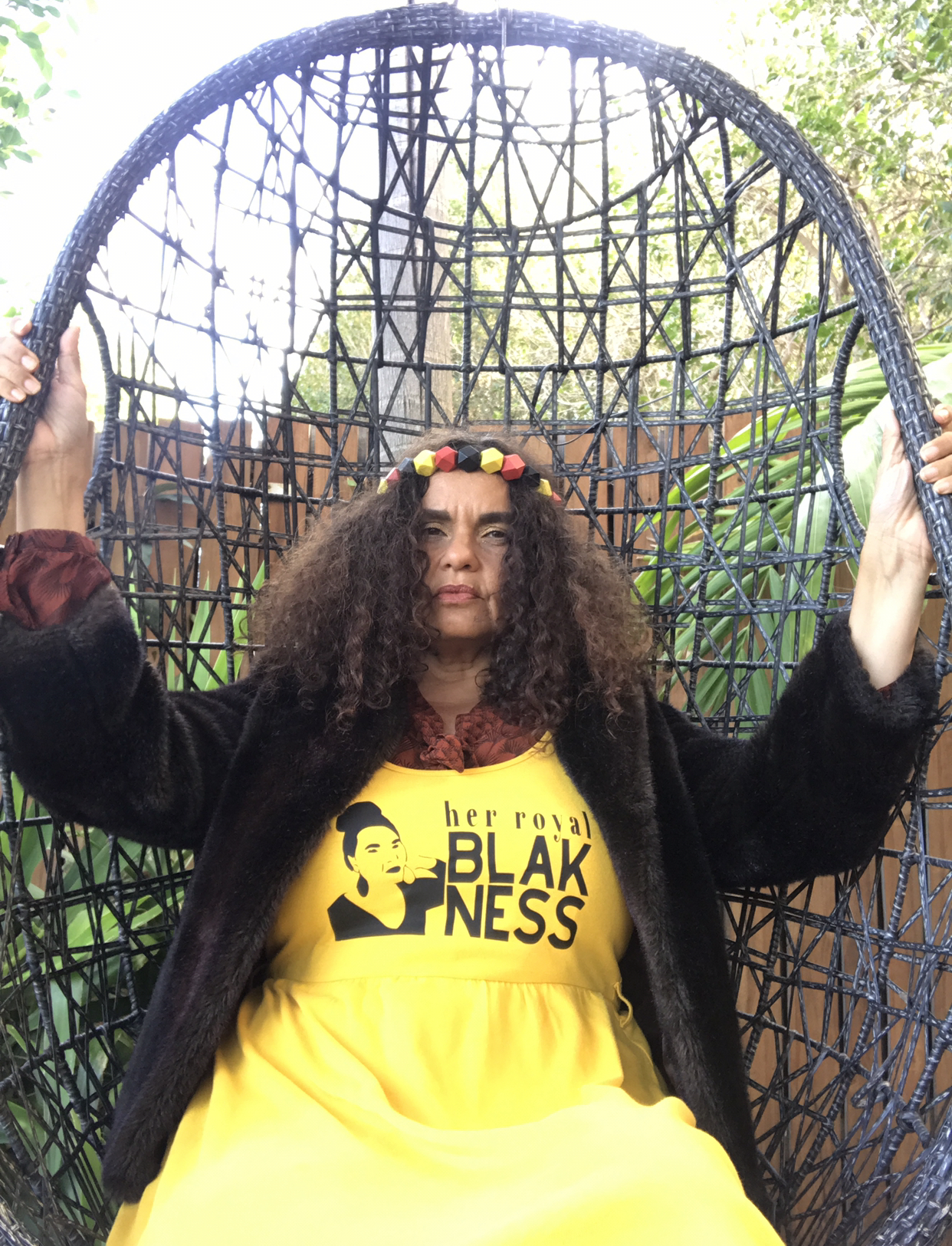 childhood memories: I grew up second-hand shopping in Gimuy (Yirrganydji nation) with my mum and aunty in the 70s and 80s. We would spend hours bargain hunting for clothes, shoes, bags and accessories. I would then style my pieces into unique outfits.
career woman: I am a journalist and communications specialist with 25years experience in television, radio, print and multi-media. I amplify Aboriginal and Torres Strait Islander voices, to tell our stories, our way.
wordsmith: I love the power of words + phrases. that speak about my sovereignty as a blak woman, an Aboriginal person, culture, history, family + connections. Blak humour. Witty, political, biting. The words + phrases in my design are common to where I live in Meeanjin + where I grew up in Gimuy. Every mob has words + phrases unique to them. They are identifiers to who we are, where we are from + live. They continue to adapt, shift + elevate our voice, enabling us to express ourselves in creative + powerful ways. These phrases connect me to other Bama's, Bunji's, Murris + blakfellas around the country.
save the planet: I'm passionate about reducing clothing, plastic and household waste. All my clothing and homewares are sourced from second-hand shops, or donated from family and friends. My jewellery is made from plastics and repurposed jewellery.
unique: I have always had an individual, sometimes quirky, but always unique sense of style. I got this from my mother. The most beautiful blak woman. I love altering everyday items and transforming them into a piece of art. I weave phrases and words that are powerful and meaningful to me into many of the pieces.
I walk this brutally colonised country SURVIVING
for those who fought for me
and those I am fighting for
I SHARE THIS WORLD
not JUST so you can better understand my perspective
BUT So that you alter YOUR behaviour
So I can walk safe, free, unceded
as a
Sovereign
Blak
Woman